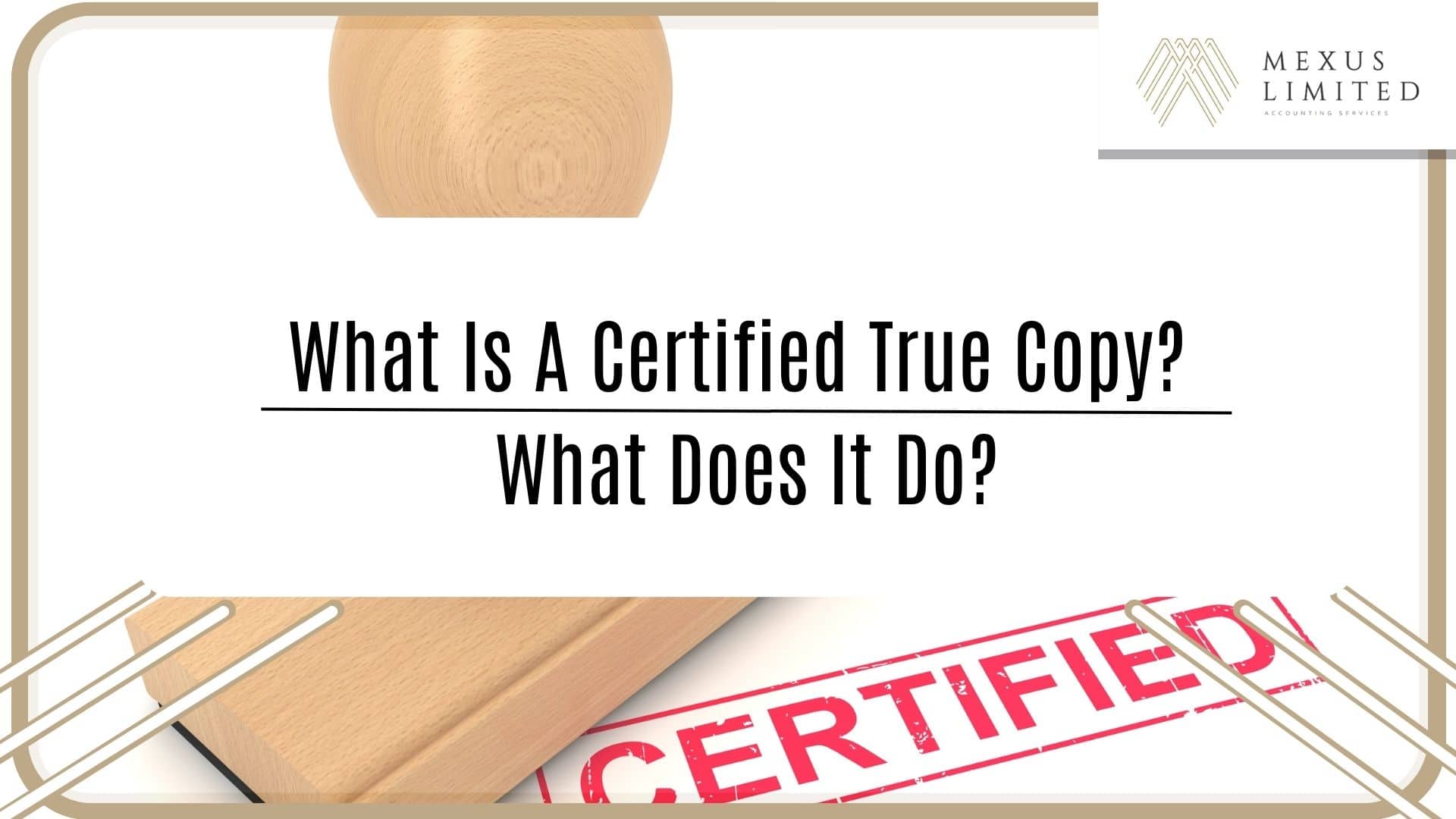 "Certified True Copy", often heard in Hong Kong or other jurisdictions. It is not only a commonly used legal and accounting term, it is the best means to certify the legality and compliance of corporate documents, and plays a vital role in the overall business process and application procedures. What exactly is a certified copy? What are its functions? This article will explain its role and importance for SMEs to refer to.
1. What is a Certified True Copy?
A "Certified True Copy" is a true copy (whether photocopied or not) certified by a qualified professional such as a certified public accountant as a copy of the original document.
A copy is usually a set of documents with an accompanying statement 'endorsement' certifying that it is a copy of the primary document, usually certified by a stamp or signature.
2. Common formats for certified copies
Generally speaking, the certified copy recognized in Hong Kong is written in original English or Chinese and will contain the following:
– make a certified statement;
– the total number of pages of the certified document;
– the date on which the certification was performed;
– details and signature of the person/organization making the certification;
– Certification stamp.
Why do you need a certified copy?
To allow third parties to verify important documents (such as identification documents, proof of address, bank records, etc.), certified copies are a practical and secure method.
It ensures the integrity of the document and that the reproduction is "accurate" without any other misleading information; at the same time, it ensures that the original document is not damaged or lost during the reproduction process, and also fulfills the "anti-money laundering" requirements. obligation.
The specific circumstances in which a certified copy may be used are as follows:
• Open a corporate account with a Hong Kong bank;
• Land sale, purchase of property;
• Overseas immigration, overseas study;
• marriage;
• Adoption of children;
• Registering an offshore company;
• A trade or company conducts business, etc.
Institutions in many jurisdictions have strict procedures for their administrative approvals and certain standards and requirements for submitted documents. They may require a document or true copy certified and witnessed by a professional, known as a "certified copy" to prove that it was copied from the original document.
How do I get a certified copy?
In Hong Kong, certified copies can only be certified through lawyers, notaries and certified public accountants. Details can generally be obtained from their services. The fee for each document ranges from $100-$500, depending on the quantity and content. Certainly.
Validity period of certified copies
The certified copy will be marked with the date of certification. Although the certified copy in the broad sense does not have an expiration date, in fact, most institutions in Hong Kong only accept certified true copies within 3-6 months.
Therefore, certified copies are usually not certified until some time before use, and it is best to ask the other party for details of the requested documents.